Our Italian Language program includes intensive weekly courses and 2-month-long courses.
Classes are designed for "new Italians" who have decided to move to Italy for an extended period or for tourists who often visit Italy. Courses are organized in classes with students all of the same language level. The level results from a written entry test and from a short interview.
Weekly conversation course 22 hours
The weekly intensive conversation course is as follows:
Duration: 15 hours (each lesson lasts 55 minutes)
Time: from Monday to Friday, morning 9:00– 12:00
Participants: minimum 2 and maximum 5.
In the afternoons 7 hours of activities: excursions, visits, wine tastings.
Weekly classes with special programs
for families with children and adults, with appropriate activities both separated and shared. The pleasure of learning on holiday in an extra-school family setting. This can be in a hotel, in holiday apartments or under the beach umbrella.
Weekly classes with special programs
taught at one of our typical lake restaurants, the chef will carry out Italian and regional recipes, while your teacher explains and comments in Italian.
Students can share a creative and fun experience in learning a language and can also taste the final product.
A package consists of a minimum of 10 hours in 4 weeks.
These individual "tailored" classes allow teachers and students to focus their work on specific language needs of the student: marketing, business, topical issues, local culture or other topics.
Choose your own stay!
Upon request our school offers the chance to stay in furnished apartments or farm holidays, B&B or hotels. All accommodations have been selected by our school according to excellent standards of quality. The facilities are close to the school and guarantee a comfortable stay.
We also recommend farm holidays and Bed&Breakfast structures, typical in our area. They are the ideal solution for learning on holiday. Students will find a separate bedroom with private bathroom, on request breakfast, and the family at their disposal for some conversation.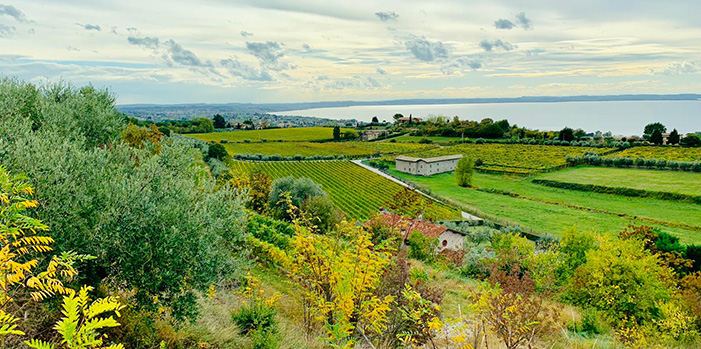 For direct contact visit our accommodation page to view nearby hotels and lodgings which guarantee special rates for students.
Hotel Romantic
three stars with swimming pool, garden, quietly located in Cavaion-centre, only 3 minutes walk from the school.
Hotel Andreis
Family hotel in Cavaion, 2 stars, with pool, garden, characteristic local restaurant, central and quiet. Open the whole year round.
B&B Borgo Piccolo
Rooms and apartments with every comfort, air conditioning, kitchen, TV, surrounded by the vineyards of Cavaion.
Casa "Erminia"
Host family and apartment for one or two people; with swimming pool and tennis court.
"Golf" Apartment
ideal for 2-4 people at the entrance to the Marciaga golf court.
Pictures and info here:
Agriturismo Raval, Bardolino
The farm Raval is located in the heart of the Bardolino Classico zone, only 2 km from Bardolino. Our guests find four apartments surrounded by vineyards overlooking the lake.
Agriturismo Ca' Castellani
recently renovated rural house 2 km from Bardolino and 5 km from the school; surrounded by greenery and framed by mountains. It offers apartments for families and for one person, a swimming pool, a garden and a spectacular view of the lake.
Hotel Kriss
Hotel Kriss Internazionale in Bardolino, for a holiday with a spectacular lake view and much more:
– Sporting facilities nearby which include golf, biking and sailing
– Take a "Trip into the past" viewing Mrs Lisi's collection of ceremonial items and other historical objects dating back to our ancestors.
Il cantuccio sul Garda – Relais di charme
In the historic center of Cavaion Veronese, just 3 km from Bardolino, Cantuccio sul Garda offers a timeless ambient. There is a lake view and refined, delicate and romantic atmosphere. The attention paid to details, white in all its shades, warm and soft colors, will company guests on a relaxing holiday with typical Italian good taste.
A1 Beginner Italian
Breakthrough Level
A2 Beginner Italian
Waystage Level
B1 Basic Italian
Threshold Level
B2 Basic Italian
Vantage Level
C1 Professional Italian
Effectiveness Level
C2 Professional Italian
Mastery Level
The A1 Level documents the capacity to understand and to use simple and familiar expressions for meeting daily needs related to the following topics: human body, clothes, family, dates, house, city, transport and directions, food, stores, offices and phones.
If you know only few sentences and words you qualify as a "true beginner". The same situation applies to a "false beginner", someone who learnt the language at school, but forgot all basic notions after a couple of years without practising it.
The A2 Level guarantees autonomy in the context of elementary communication. On reaching this level one can accomplish tasks related to basic needs regarding: individual sphere, local geography, work, shopping, nationality, the weather, weights and measures.
Usually a vocabulary of 600 words breaks the communication barrier, whereas a vocabulary of 1000 words is the peak limit for someone to easily make a conversation in a language.
The A2 certification is required in European countries in order to obtain a long-term residence permit.
The B1 Level marks the capability to comprehend texts on familiar and accessible subjects. At this level one is able to interact within an Italian speaking context and can use the language to express opinions and give elementary explanations about: holidays, work, school and more.
At the pre-intermediate level students can improve their ability to listen, talk, read and write the foreign language and can take part in more articulated conversations on various topics using a simple, jet appropriate vocabulary, even making some mistakes.
The B2 Level is required for foreign students at Italian universities. It attests to a competency in the Italian language which is necessary in a traditional scholastic context as well as to prepare for work activities in which one interact with the public. At this level one is able to socialize simply in an Italian-speaking setting and to use the language for specialized lexicon inherent to one's study or work sphere.
The C1 Level marks a strong confidence with the Italian language and life, such that it can be used in different working environments such as professional, commercial, industrial, bureaucratic.
One is able to comprehend complex speech and writing (such as, for example, a literary text) and to write in a similar manner and can use a specialized lexicon that includes disciplines inherent to one's own.
The C2 Level certifies a high competency in Italian language, as if it were a mother tongue, a high knowledge of Italian culture, and the ability to effectively employ it in any and all professional settings. The student has a vast choice of grammar structures and uses them with proficiency.
Here one would be competent to teach Italian at the L2 level and to qualify for professional assignments of a high degree.
Wide mastery even in spheres that are distant from one's interest.
Conversation course
22 hours
(Class with 2-5 students)
Classes with special programs
contact us for information
Our prices are All-inclusive, the fee includes: teaching material and 22% VAT